About the future of our Hwy 114 location in Roanoke
We have not yet secured an additional extension from the city of Roanoke allowing us to sell fireworks from our store on Hwy 114. We are still hopeful that an agreement can be reached prior to the 2013 4th of July season.
Unfortunately, this means that we will not be open to sell fireworks at our Hwy 114 store any this New Year's season. We will however, have the store open on New Year's Eve and the day prior to provide information as to where people can purchase fireworks this New Year's season. We will also be soliciting support for our coming efforts to try and keep our store open in the future.
—
A lot of ya'll out there are wondering what the future holds for our superstore in Roanoke. This is the last season of our current extension. Don't fret however, WE WILL BE OPEN THRU THIS JULY 4th.
We started selling fireworks at this location in the summer of 2000. We built our 12,000 sq ft store in the spring of 2002. Over that time we have had thousands of customers come through the doors. Many pyro people are true characters indeed.
About four years ago, the city of Roanoke informed us of their intention to annex our property. Since that annexation, Roanoke has been very constructive and understanding in handling this situation. As a result, we have been able to continue to serve our customers the last 4 years while being within the city limits of Roanoke.
As for the future. . .
We are currently in talks with the city of Roanoke to find a way forward that would allow us to continue to operate our Hwy 114 store. Our goal is to find a way to make our continued existence compatible with the future interests of the city of Roanoke. We at Nelson's Fireworks believe there is a way forward. We hope that way can be found.
A decision from Roanoke about whether to allow us to continue operating our Hwy 114 store beyond this 4th of July has not been made yet. We are having a conversation with the city of Roanoke to try and find a way forward that would include Nelson's Fireworks remaining as a part of the community.
If you would like to stay informed about how this situation plays out please provide an e-mail address and home town below and we will update you on the situation as events warrant.
Thank you,
Randy Nelson
Nelson's Fireworks

LOCATIONS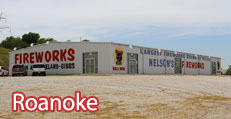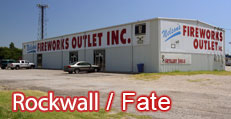 VIRTUAL TOURS
New QR Codes at Roanoke Store

You may have seen these square bar-code looking things popping up where you shop. They're called QR codes Read More...
STORE HOURS
Rockwall and Caddo Mills
Sunday – Thursday 10am to 10pm
Friday and Saturday 10am to Midnight
Closed Christmas
New Years Eve 31st 9am to Midnight
Whisky Flat hours
Sunday – Thursday 10am to 9pm
Friday and Saturday 10 am to 10pm
Closed Christmas day
Christmas Eve 10am – 4pm
New Years Eve 31st 10am to Midnight
Follow Nelson's Fireworks on Facebook & Twitter



***Highway 114 Store WILL NOT be open for the winter season. For information about the future of the 114 Roanoke Mega Store, please see this page.