Business is booming for brothers
Fireworks enthusiasts expand stand into giant warehouse on Highway 114 06/30/2002
By LESLEY TELLEZ / The Dallas Morning News
Four tiny "No Smoking" signs are taped to the front doors of Nelson's Fireworks. Inside there's 12,000 square feet of air-conditioned pyrotechnic shopping pleasure. Shelves are stacked to the ceiling with more than 500 cases of standard artillery shells, about 125 cases of "cakes," and thousands of other fireworks.
Roy Nelson, who owns the store near Texas Motor Speedway with his brother Rex, smiles proudly. Theirs is the largest stand in the Dallas area - as touted across the front of their building - and among the biggest in the state, according to officials in the state fire marshals office.
"We're pyro people," said Roy Nelson, 54, of Fort Worth. "This is our crown and jewel."
Inventory includes This is America - a cake stuffed with 500 grams of black powder and adorned with the Statue of Liberty. Gangsta Shots is another cake decorated with silhouettes of tough-looking men. The flat, cake-shaped firework assembly sends out multiple shots in the air.
A customer can spend anywhere from 15 cents for a Jumping Jack that spins around on the floor to $2,000 for the "assortment wall," a variety of fireworks hand-picked by the Nelsons.
The Nelsons and other fireworks stands across the state are gearing up for the July Fourth holiday, when they say they'll make most of their sales for the year.
Fascination with things that crackle, pop and wail put the family into the business more than a decade ago, Roy Nelson said.
Growing up, the Nelson men would gather at their 127-acre Caddo Mills farm near Lake Ray Hubbard and set off fireworks for fun. The displays became more grandiose as years passed, until one year the Nelson brothers figured it would be cheaper to buy their own stand. That one opened near the Caddo Lakes farm 12 years ago. It's still there, although it's bigger now.
The Nelsons also own several wooden stands in Saginaw, Rockwall and Mansfield. "It's just like I was a fisherman and I'd spend three, four, $5,000 on a bass boat," said Roy Nelson, who sells glass in the fireworks off-season. "I'll go spend three, four, $5,000 on fireworks. Same analogy, same deal. It's just a different type of people. We enjoy fireworks."
This year the Nelsons decided to go all out - expanding the stand they have owned for three years on State Highway 114. Customer Jim Onks of Paradise said he saw the store while driving to work and had to stop in for a look.
Originally from Tennessee, he said gigantic fireworks warehouses are common. "I like the fact that you're not standing outdoors and trying to guess what's inside a little bitty box," said Mr. Onks, who spent $17 on a handful of roman candles, bottle rockets and magnum repeaters. "This is one-of-a-kind here."
Duane Parson of Rhome spent about $150 on fireworks one recent afternoon - the most he's ever spent. He plans to light them while camping with the family. "It's a break from reality," Mr. Parson said of buying and lighting fireworks. "Just let loose."
The Goliath fireworks warehouse doesn't worry operators of traditional roadside stands across the highway from Nelson's. Alamo and Ron's fireworks - both facing the superstore - have been in the area more than 10 years, managers from both stands said. Chad Bonneau at Ron's Fireworks said the stand's sales have dipped slightly, but he expects loyal customers will keep coming back. "We're not real worried about the guy across the street," he said. "Good luck to him, but we still have the primo spot here."
E-mail ltellez@dallasnews.com
or call 972-436-5551, ext. 2001


MEGA-STORE LOCATIONS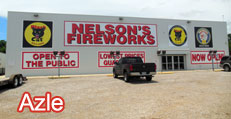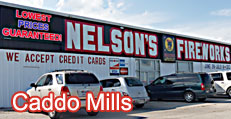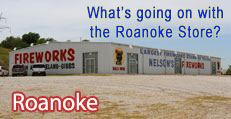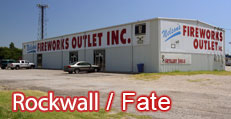 What is going on with the Rockwall store?
CITIES WHERE WELL SELL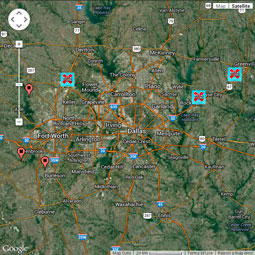 We open December 20th thru January 1st
Hours
Caddo Mills Megastore
27th 10am-10pm
28th 10am-10pm
29th 10am-Midnight
30th 8am-Midnight
31st 8am-Midnight
1st 10am-10pm
Rockwall Megastore
27th 10am-10pm
28th 10am-10pm
29th 10am-Midnight
30th 8am-Midnight
31st 8am-Midnight
1st 10am-10pm
Azle
27th 10am-9pm
28th 10am-9pm
29th 10am-10pm
30th 10am-10pm
31st 10am-Midnight
1st 10am-8pm
Whiskey Flats
27th Noon-10pm
28th Noon-10pm
29th Noon-10pm
30th 10am-10pm
31st 10am-Midnight
1st 10am-8pm

Haslet/287
TBA