Select the categories you would like to see:
Locations:
Azle Megastore
1801 FM 730 North Azle, Texas 76020
2 miles north of Jacksboro Hwy (Hwy 199) and FM 730
The Farm (Caddo Mills)
Interstate 30 and FM 1903 (Northeast corner) Caddo Mills, Texas 75135
This is where it all started more than 20 years ago. Of course, the stand is a LITTLE bigger now. Well, it's one of the largest fireworks stands in Texas. This megastore offers indoor, air-conditioned shopping with the largest selection of fireworks in Texas. We have recently remodeled, quadrupling our counter space.
Located on the westbound side of Interstate 30 at the NE corner of FM 1903 in Caddo Mills. Use exit 87 if you are traveling east from Dallas and exit 88 if you are travelling west from Greenville.
GPS Location:
Latitude 33° 2'39.81"N
Longitude 96°10'51.63"W
Roanoke Megastore (Hwy. 114 & IH-35W)
Closed for 2016!  For Information about the Future of the 114 Store, please click here.
Rockwall Megastore
2415 E Interstate 30 Fate, Texas 75189
Located on the westbound side of Interstate 30 approximately 1/4 mile East of Chilly Mart. Look for the large white building with the Nelson's banners.
If you are coming from the West (Dallas, Ft. Worth, Mesquite, etc.)
You need to exit at exit #73 (FM 551).  Turn left to go over the bridge. Then head back to the west on the westbound frontage road.
GPS Location:
Latitude 32°55'22.59"N
Longitude 96°24'26.84"W
Benbrook Store (Whiskey Flatts)
Hwy 377 and FM1187 (Southeast corner) Benbrook, Texas 76126
Southeast corner of Hwy 377 and FM 1187
Look for the white, air-conditioned Nelson's Fireworks mobile store. Located at the southwest corner of Highway 377 and FM 11887.
GPS Location:
Latitude 32°36'58.61"N
Longitude 97°32'6.12"W
Crowley Stand (Nicky D's)
Thanks for 10 great years at Nicky D's. Unfortunately, the city of Crowley has annexed Nicky D's into the city limits, making it illegal for us to continue selling fireworks there. Visit our Whiskey Flatts location 12 minutes west on FM 1187. Look for the white, air conditioned, mobile building.
Newark Stand (Boat Club Road)
12526 FM 1220 Fort Worth, Texas 76179
About 2 miles North of Peden Rd.
Look for the Texas Flag stand with the Black Cat logo on the side. It is about 1 mile north of Peden Road. It is about 3 miles south of FM 718.
Park and Pop!
The Caddo Mills park and pop will be open July 1st thru July 4th.
July 1st 8-11pm
July 2nd 8-Midnight
July 3rd 8-Midnight
July 4th 6pm-1am
The cost is $20 per carload, we do not have a per individual price. If a car goes through, it's $20.
The parking for the Caddo park and pop is not paved. Thus, if there is significant rainfall on the 1st thru 4th, parking may not be possible. If this happens, we will not be able to host the park and pop.
Haslet Stand (Texas Travel Plaza)
Look for the two chrome yellow Nelson's Fireworks stands. We're on the south edge of the property adjacent to FM 718; in the parking lot of the Shell station.


MEGA-STORE LOCATIONS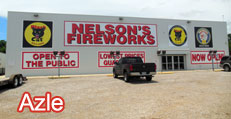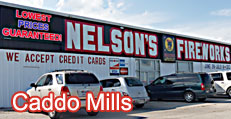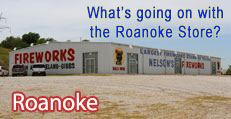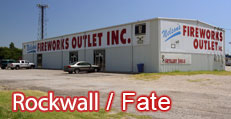 What is going on with the Rockwall store?
CITIES WHERE WELL SELL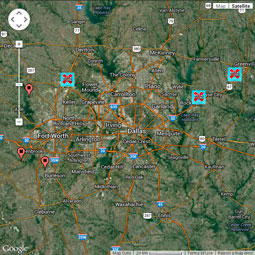 We open December 20th thru January 1st
Hours
Caddo Mills Megastore
27th 10am-10pm
28th 10am-10pm
29th 10am-Midnight
30th 8am-Midnight
31st 8am-Midnight
1st 10am-10pm
Rockwall Megastore
27th 10am-10pm
28th 10am-10pm
29th 10am-Midnight
30th 8am-Midnight
31st 8am-Midnight
1st 10am-10pm
Azle
27th 10am-9pm
28th 10am-9pm
29th 10am-10pm
30th 10am-10pm
31st 10am-Midnight
1st 10am-8pm
Whiskey Flats
27th Noon-10pm
28th Noon-10pm
29th Noon-10pm
30th 10am-10pm
31st 10am-Midnight
1st 10am-8pm

Haslet/287
TBA