---
Rocketeer

Developed in China during the 11th Century and reportedly transported to Europe by the Mongols after the 13th Century, the rocket soon became an integral vehicle in the development of pyrotechnics throughout history. With this in mind, the "Rocketeer" has been created as a testament to this legacy. Judging a top quality rocket requires assessing rocket motor consistency, speed, height, and effect to weight ratio. The Black Cat® Gold Collection "Rocketeer (RK-100 series)" packs enough effect into 20 grams of powder to make any rocketeer proud, with each of the six rockets in this selection passing the judging panel with flying colors! Color and Effects: 1. Green Palm Rings 2. Purple Palm Rings 3. Brocade Crown 4. Sky Blue Brocades 5. Green Palm & Crackles 6. Red Strobes



#6 Rockets

These and all Black Cat@ rockets are made on special machines so the performance and quality are consistent.



Air Force One

Silver tail to silver flying fish. Unit size (inches): 31x1-3/4x7/8x7-3/4 Packing: 12/5 Carton size (cbm): 0.059 Gross Weight (kg): 10



Arrows of Light

You can almost hear the drums calling as the Arrows of Light rocket assortment lights up the sky. Nine premium rockets of various siezes and colors are colorfully packaged and blister packed for maximum impact. Effects include: Red crossette with crackle pistil; Crackle stars with whistle and green glitter; Red bees with blue star; Green bees with blue star; Brocade crown; Gold glitter; Peach and glitter pistil; Crackle pistil; Crackles pistil and silver fish; Green glitter and gold glitter.



Big n' Bad Rocket

Black Cat®'s Big 'n Bad rockets are huge and bold. Six spectacular premium effects are matched with huge rocket bursts and mind blowing performance. Each of the base colors and glitters are mixed with standout Brocades, Crackles and Willows. A triumph for Black Cat®'s attention to color combination and commitment to Big 'n Bad performance. Size: 32-1/8 L includes 6-1/2 Motor & Head Effects: 1. Vertical Lift to Gold Glittering Brocade with Blue Stars 2. Vertical Lift to Crackling Palm with Red & Green Stars 3. Vertical Lift to Red Willow & White Glittering Stars 4. Vertical Lift to Silver Willow & Green Glittering Stars 5. Vertical Lift to Crackling Spike with Blue Stars 6. Vertical Lift to Red Umbrella with Green Glittering Stars

Watch Video

Big Head Rocket

Definitely ahead of the rest. Big Head Rockets shoot headlong into the sky reaching heady heights, with huge head-strong bursts. Head-spinning stuff!! Assorted Effects Include: 1. Red with Titanium Chrysanthemums 2. Green with Titanium Chrysanthemums 3. Yellow with Titanium Chrysanthemums 4. Purple with Titanium Chrysanthemums 5. Blue with Titanium Chrysanthemums 6. White Glitter with Titanium Chrysanthemums Size: Motor payload width: 1-1/2" Motor height: 5-1/2" Rocket stick length: 25-1/2"

Watch Video

Elite Sky Rockets

Click here to view larger image The next generation of Sky Rockets. Aerodynamically designed for a elite flight performance matched only by the quality of colors & effects. A Black Cat® original! Effects: 1. Purple Stars & Yellow Glittering Palms 2. Blue Stars & Green Umbrella 3. Whistling Tails to Blue Stars & White Glittering 4. Whistling Tails to Silver delayed Crackle & Green Glittering Size: Motor width: 1-3/4" Motor height: 8-1/2" Rocket stick length: 28"

Watch Video

Galaxy Pack

Experience the thrill as these high quality pocket-rockets shoot to the stars-literally! The Galaxy pack is a 9-pack combo of high flying color and action. Effects including: 1. Red and Green stars with Crackles 2. Colored palm trees 3. Red Crossettes with Green stars 4. Green Crossettes 5. Palm trees with Crackles 6. Golden Comet with Crackling Pistil 7. Whistling Rocket 8. Triple whistle with Green falling leaves and Crackling Pistil 9. Whistling tails to a Crackling palms

Watch Video

Pound Rockets

The effects consist of four big rockets with really big effects. Crackling Gold, New Color Leaves, Red Crossette and Sizzling Silver Crossette.

Watch Video

Ring Shell Rocket

Six awesome assorted rockets that break into color rings. Because the rocket keeps the shell oriented in the same direction throughout the flight, the rings break perfectly nearly every time.



LOCATIONS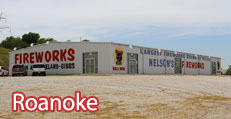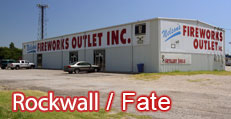 VIRTUAL TOURS
New QR Codes at Roanoke Store

You may have seen these square bar-code looking things popping up where you shop. They're called QR codes Read More...
STORE HOURS
Rockwall and Caddo Mills
Sunday – Thursday 10am to 10pm
Friday and Saturday 10am to Midnight
Closed Christmas
New Years Eve 31st 9am to Midnight
Whisky Flat hours
Sunday – Thursday 10am to 9pm
Friday and Saturday 10 am to 10pm
Closed Christmas day
Christmas Eve 10am – 4pm
New Years Eve 31st 10am to Midnight
Follow Nelson's Fireworks on Facebook & Twitter



***Highway 114 Store WILL NOT be open for the winter season. For information about the future of the 114 Roanoke Mega Store, please see this page.